Housing and Homelessness
Image

What Makes Us Different
The Harris Center provides a wide array of housing services including homeless outreach, rehabilitative support, placement assistance, permanent supportive housing and crisis support for adults who are behaviorally ill. The Harris Center also provides outreach services through the Projects for Assistance in Transition from Homelessness (PATH) program.
For questions about these Services, scheduling appointments, and more, contact The Harris Center Patient Access Line.
713-970-7000
Image
Crisis Residential Unit (CRU)
The Harris Center offers two Crisis Residential Units (CRUs), which are a short-term, residential alternative to hospitalization or prolonged hospitalization for adults (ages 18+). Using evidence-based interventions, we work with residents and supporters to improve skills for coping with distress, resolving and avoiding crises, functioning more effectively in the community and progressing in recovery. This voluntary program is available to residents of Harris County with serious behavioral illness who are experiencing a psychiatric crisis that cannot be easily managed in the outpatient setting and are referred through a clinical provider. Referrals come from agencies, hospitals, and/or programs (no self-referrals are accepted). The average length of stay at the CRU is 10 – 14 days, which allows individuals to stabilize on medication and receive intensive therapy. 
Services:
Medication management
Therapy
Care coordination
Nursing services
Group skills training (problem-solving, communication, life skills, anger management, and chemical dependency education) 
Testimonial:
Image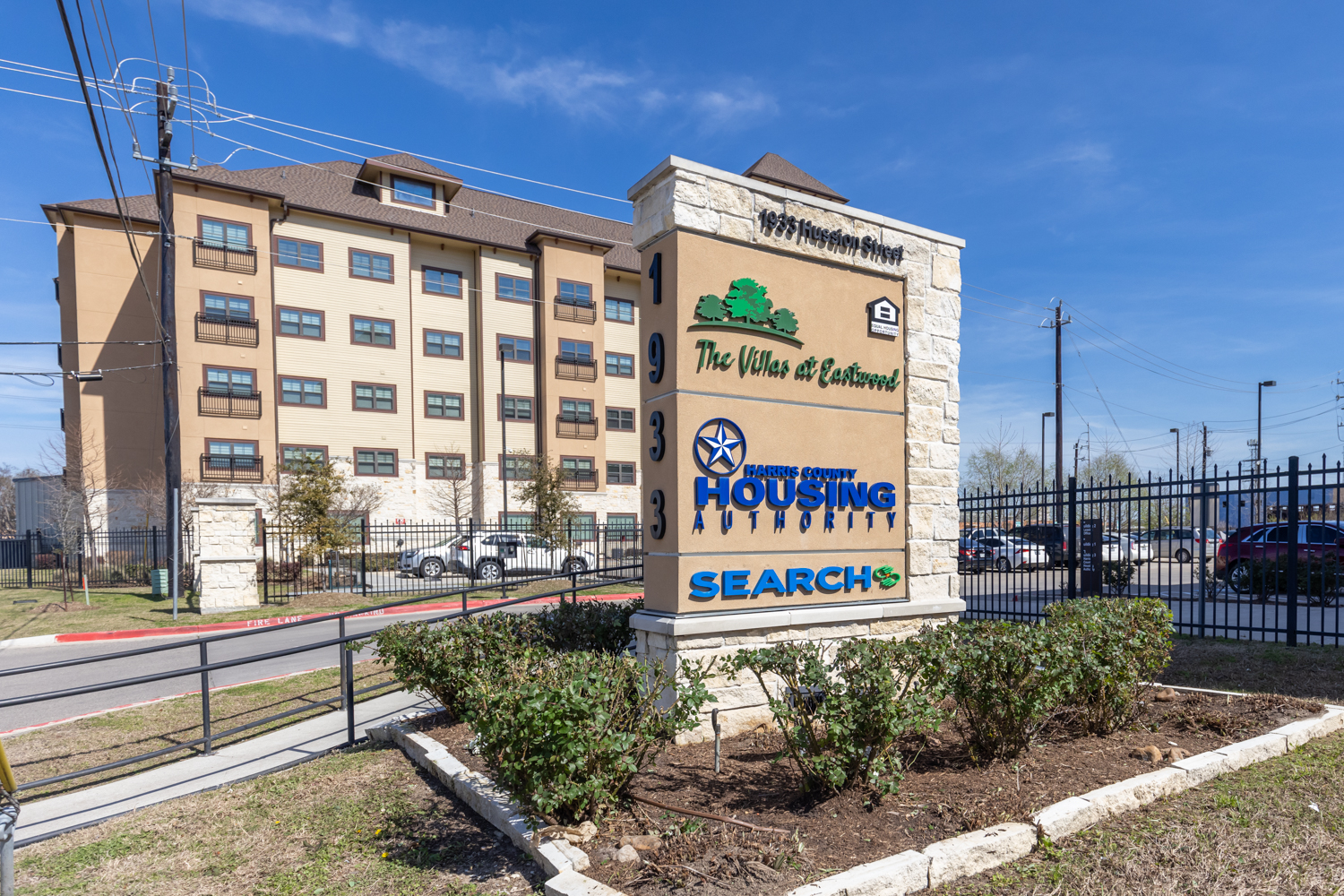 The Enrichment Center at the Villas of Eastwood
The Enrichment Center is a Harris Center program embedded inside the Villas of Eastwood Apartment complex that provides behavioral health treatment to adult tenants ages 18 and older at the Villas at Eastwood. Referrals are made by Property Management, Harris County Housing Authority, Search Homeless Services, or through walk-ins.
Services:
Crisis intervention
Engagement and outreach
Trauma-informed clinical support
Intense care coordination and case management
Substance use support (LCDC Services)
Transportation
In-home, aftercare services
Access to Harris Center continuum services
On-site recreational activities
Peer support
Image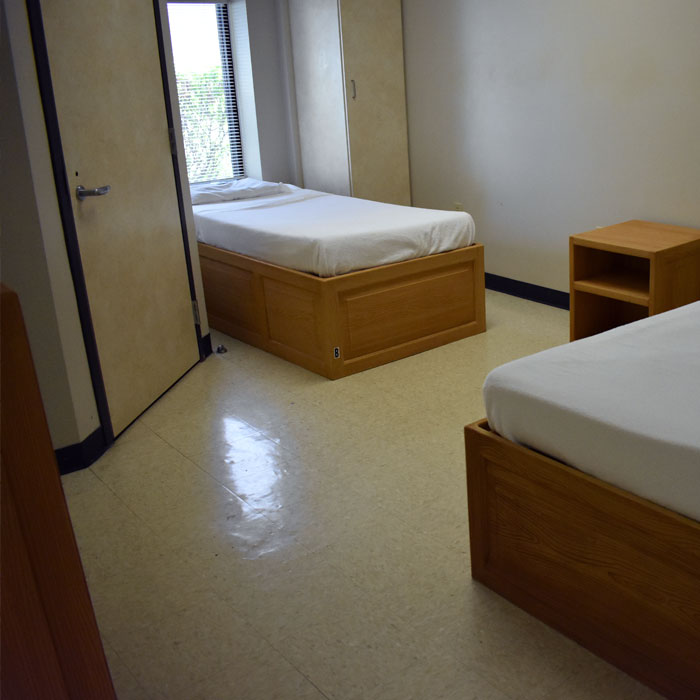 Hospital to Home
The Hospital to Home (H2H) is a voluntary program for adults that offers residential, rehabilitation services to individuals who are experiencing homelessness and a serious behavioral illness. Participants receive comprehensive rehabilitation services to help them successfully transition to more permanent housing options. H2H has 24 beds available. The estimated length of stay is 90-180 days. Referred patients are typically discharged from the Harris County Psychiatric Center (HCPC), NeuroPsychiatric Center (NPC), private psychiatric hospitals, or Harris Health Emergency, without a permanent housing option.
H2H is a collaboration with the Coalition for the Homeless, UTHealth Homes, and The Harris Center. The H2H Program utilizes educational materials on Illness Management & Recovery (IMR), S.E.L.F-(a trauma-informed curriculum), Motivational Interviewing, Journaling, Music Therapy, Coping Skills, Health & Wellness, Life Skills, Creative Expressions, Financial/Budget, Physical Fitness, Ask the Nurse, and Peer Lead groups are some evidence-based practices to facilitate throughout the client's residency.
Services:
Temporary housing in a safe environment (24 beds available)
Therapeutic and life skills groups
Peer support
Individual counseling
Medical evaluation
Clothing and healthy meals
Assistance accessing social services: applying for SNAP benefits, gold card, long-term housing, etc.
Image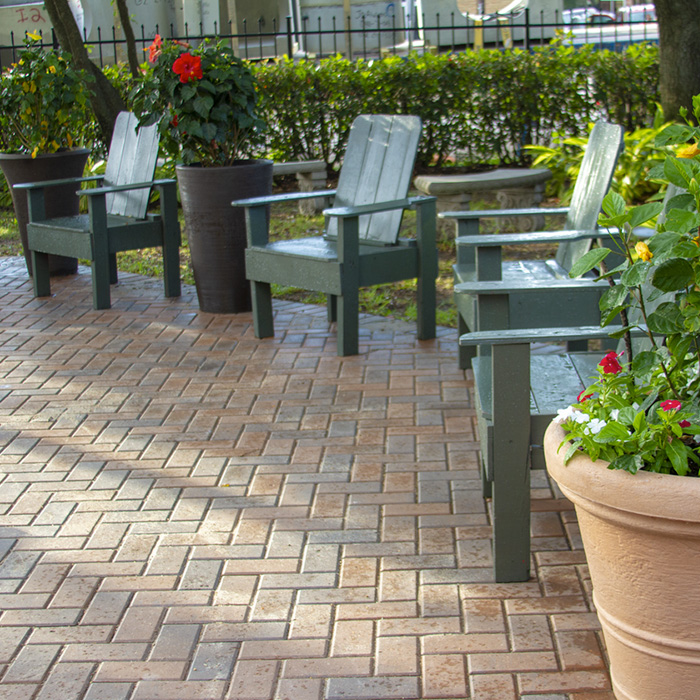 Independent Living
Independent Living is a voluntary program for individuals experiencing homelessness and a behavioral illness (ages 18 or older), who are discharged from specific Harris Center programs and preparing to live independently in the community. Referrals must come through the Houston Coalition for the Homeless, The Harris Center PATH program, or other Harris Center programs located at 6160 S Loop E Fwy. Individuals referred to the Independent Living program are provided with a safe, secure, single room occupancy living space. The three-story building offers 24 beds. Each single room occupancy has amenities including television, microwave, refrigerator, individual bathroom, AC, and heat. The estimated length of stay for residents is up to 365 days. 
Independent Living is a collaboration with The Way Home and The Houston Coalition for the Homeless.

Services:
Temporary housing in a safe environment (including around-the-clock security officers)
Care coordination services to individualize entry and exit strategies from the program
Psychiatric technicians
Substance abuse treatment groups
Assistance with applying for benefits (e.g., SNAP, gold card, etc.) 
Testimonial:
The first resident to enter our program in December 2020 was Patrick R. Patrick, a referral from Hospital to Home (H2H), who had been homeless for more than eight years before entering that program. Patrick is originally from North Carolina. During his time there, he set up an encampment in the woods of the Appalachian Mountains and lived there for a reported two to three years. He faced substance abuse and numerous behavioral and physical health issues. 

Arriving in Houston three years ago, Patrick sought a better life. He began to seek treatment for all his issues, leading him to hospitalization. He was awarded Social Security benefits, entered H2H and ultimately, Independent Living. He was a model resident and continued to attend substance abuse classes. 

Patrick has now been discharged from Independent Living into his apartment. Patrick attributed his success to "Being able to save some money and doing what I was supposed to do." 

Independent Living is proud of his accomplishments, and Patrick inspires other residents in the program.
Image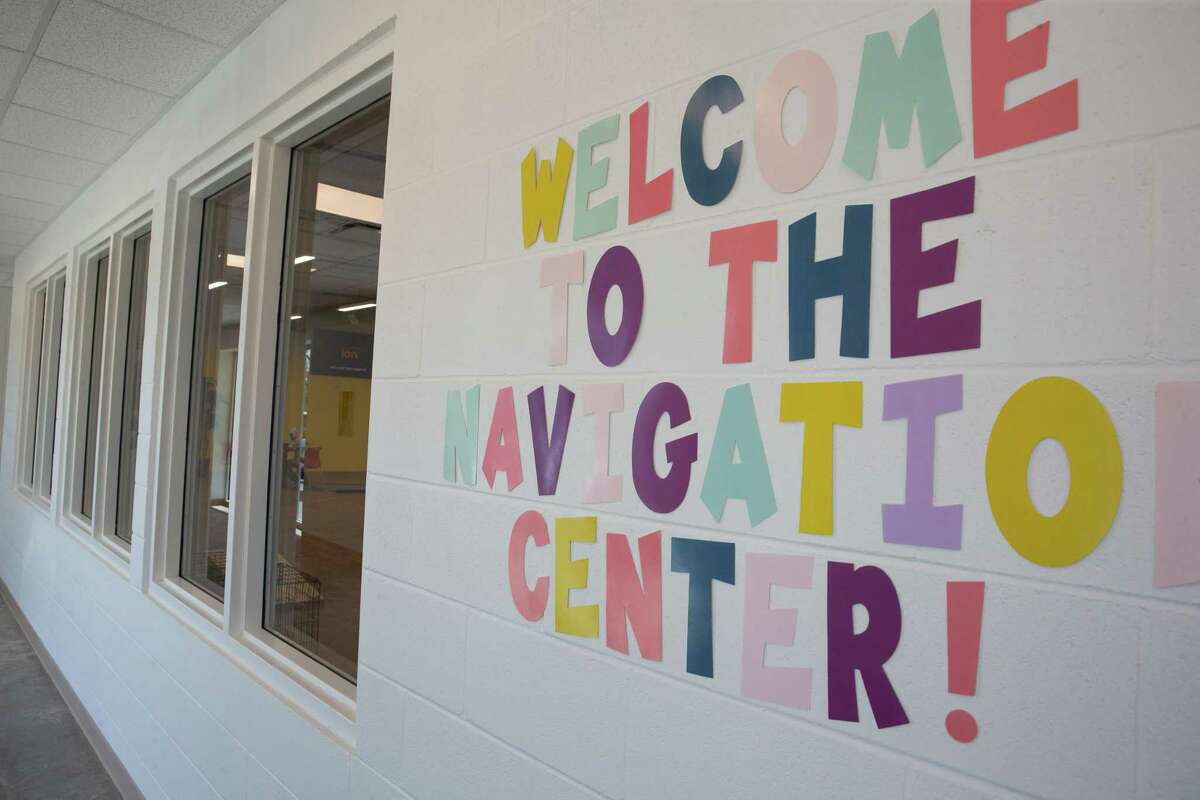 The Navigation Center: Harris Center Support Team
The Harris Center Support Team operates out of the City of Houston's Navigation Center, a facility that temporarily houses individuals experiencing chronic homelessness waiting to be permanently housed. Referrals come through the Houston Management Information System (HMIS) housing program responsible for facility operations. Services are available Monday-Friday, 7:00 AM-7:00 PM. This is a voluntary program for adults who have a history of chronic homelessness and are willing to consent to services.
The Harris Center Support Team is a collaboration with The Houston Coalition for the Homeless and Harmony House.
Services:
Housing support services
Behavioral health and recovery treatment
Peer support
Image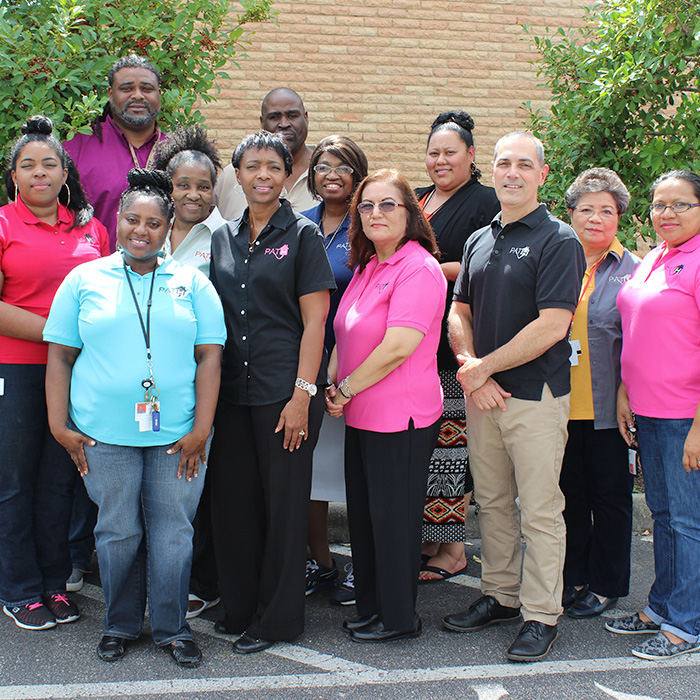 Project for Assistance in Transition from Homelessness (PATH)
The Projects for Assistance in Transition from Homelessness (PATH) is a program that provides clinical mental health and non-clinical services to adults ages 18 or older who are both homeless and have a mental illness and/or substance use disorder. The goal of the program is to improve the individual's quality of life by connecting them with ongoing outpatient mental health services at The Harris Center. Intakes for new clients are performed every morning on a first-come, first-serve basis. Individuals experiencing homelessness may walk-in to request services (no referral required). Individuals may also be referred by other shelters and homeless providers, other Harris Center programs, Houston Police Department (HPD), Harris County Sheriff's Office (HCS), Homeless Outreach Team, or local hospitals.
The PATH program is a grant-funded program by the Substance Abuse and Mental Health Services Administration (SAMHSA) and Texas Health and Human Services Commission (HHSC).
Clinical Services:
Comprehensive Psychosocial Assessment
Psychiatric assessment and medication services
Substance abuse assessment and treatment
Care coordination
Community Outreach
Non-Clinical Services:
Meal service (breakfast and lunch)
Showers
Clothing
Laundry
Access to computers for resume writing, job searching, etc.
Lockers for personal belongings.
Special thanks to the following community partners that support the PATH program:
Coalition for The Homeless: manages The Homeless Management Information System (HMIS)
Beacon Law: assist clients with Social Security applications for benefits
Houston Food Bank: assist clients with the application for food stamps and Supplemental Nutrition Assistance Program (SNAP) benefits
Main Street Ministries (a.k.a. Operation ID): assist clients with obtaining officially accepted identification documents
St. Hope Foundation: HIV education on site
Houston Recovery Center (a.k.a. Sobering Center): provide education and assist consumers with substance use and recovery
National Alliance on Mental Illness (NAMI): facilitates peer support groups twice weekly
Image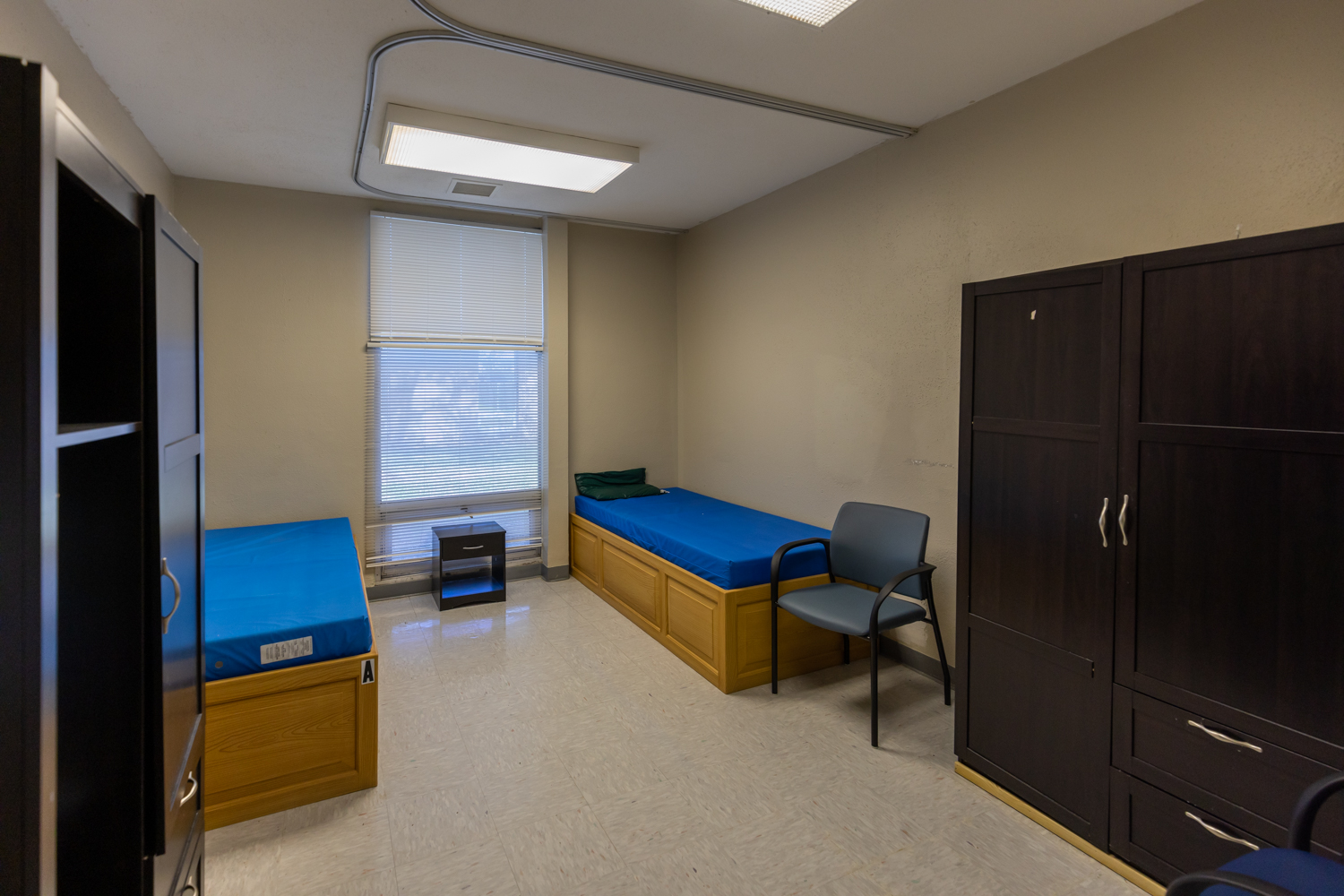 Step Down State Hospital Transition Program
The Step Down State Hospital Transition Program provides rehabilitation services to adults who being discharged from a State Hospital and are homeless and have a serious behavioral illness. This is a voluntary program that is open 24 hours/day, 365 days/year. The Step Down program has 8 beds available for adults ages 18 and older. The estimated stay for participants in the program is up to 365 days. Individuals participating in the program receive comprehensive rehabilitation services intended to help them successfully transition to more permanent housing options.
Services:
Comprehensive rehabilitation services

Housing services