How to Contract
Image

How to contract with The Harris Center
The Harris Center for Mental Health and IDD is an agency of the state, a unit of local government and the designated local behavioral health and intellectual & developmental disability authority for Harris County. The Harris Center was established by and operates pursuant to Texas Health and Safety Code, Title 7, Subtitle A, Chapter 534 with an assigned catchment area of Harris County, Texas.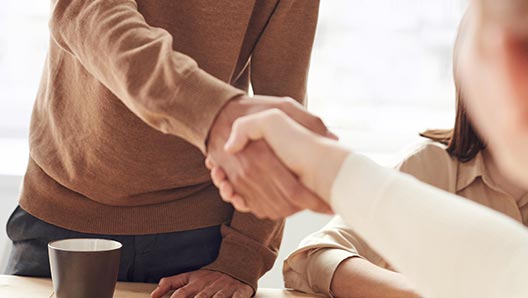 The Steps
If you are interested in contracting with The Harris Center, please refer to the following steps as defined by the Contracts department.
Step 1 - Contract is Awarded Through the Procurement Department
Congratulations on being awarded the contract. Now that the notification of award has been announced, and released to all participants, the next step is to start the contract process. The contract process is initiated the Contract Services department.
1. The Harris Center will send you a Welcome Letter and Request for Documentation from a dedicated contract specialist who will be your point of contact throughout the contracting process. The letter will provide the following information and/or request specific documentation about your business:
Deadlines to submit required documents.
Request supporting documents in regards to your business entity.
Provide insurance requirements and request a Certificate of Insurance.
Request a W-9.
Request a 1295, if applicable.
Provide any special instructions.
Request copies of licenses or registrations, if applicable.
2. It is imperative that all requested documents be provided to your designated Contract Specialist in a timely manner. Upon receipt of all documents as requested, a contract consisting of all necessary elements will be drafted and sent to you for review, comment and signature if there are no changes. The Harris Center strives to fully execute all contracts within a twenty-one (21) business days or less timeline. The Harris Center will do its part, but we need your help.
Step 2 - Basic Contracting Requirements and Standards
Did you timely submit all documents with all information accurately completed?
Business documents are required-[i.e. d/b/a, corporations, LLC, Non-profits, partnerships].  
A physical address is required for a contract vs a P.O. BOX.
The W-9 has to be in the same business name as the contracting Entity [Disregarded entity must be named on the second line if Applicable].
Submit 1295 as defined and explained in the separate link for any Contract over 50,000 and requiring Board of Trustee approval.
Submit a Certificate of Insurance [COI] showing the appropriate insurance levels as required by the Contract Services department [CSD].  The link below allows you to view a sample agreement. Note: The agreement is not the actual agreement but is meant to give you an idea of some of the terms and conditions that you may see in the final agreement.
View a sample of a Basic Standard Professional Agreement.
Insurance Requirements
As a Community Center the Harris Center is a member of the Texas Council Risk Management Fund. As the underwriter for all community centers, the fund establishes the minimum insurance standards for contracts and publishes those standards annually. Outlined below are some the main insurance requirements that are typically required on all contracts. This summary is not exhaustive and is provided as information only as standards periodically change and are updated from year to year. *Note that specialty type Contracts may have additional requirements. When you receive the "Welcome Package," the letter will tell you specifically the amount of insurance required for each line of coverage.
| | |
| --- | --- |
| Insurance Type | Additional Requirements |
| General Liability (GL) | Waiver of Subrogation, Additional Insured to the HC, Notice of Cancellation |
| Automobile Liability | All owned, hired and non-owned vehicles. Waiver of Subrogation, Additional Insured to the HC and Notice of Cancellation or nonrenewal. |
| Workers Compensation | Waiver of Subrogation in favor of the Center, Notice of Cancellation or nonrenewal. |
| Umbrella Liability | Special Provision, Waiver of the Subrogation in favor of the Center, Notice of Cancellation or non-renewal. |
| Professional Liability | 30 Day notice of Cancellation and Non-Renewal. |
| Products Sales | Vendors who sale products to the Center should have Product Liability as part of its General Liability. |
| Insurance Types | Workers Compensation, General Liability, Automobile Liability is required for Contractors, Vendors and Providers. |
|   | Professional Liability is required for contracted physicians, therapist and counselors. |
Specialty Agreements: Construction, IT, Leases, Repair or Renovation Agreements
The Harris Center enters into many types of agreements including those listed above. When the Contract Services department engages with a vendor to establish an agreement to provide the types of services outlined below it is likely that the contract requirements may change to ensure that the agreements contain legally required provisions that are specific to the type of services.  Please see some of those expanded requirements below. The list is not exhaustive but is meant to be a sample of those requirements.
Construction: Contractor will most likely have to include costs in its bid for payment or performance bonds, as applicable. Depending on the funding source [i.e. Federal vs. state] the terms and conditions of the agreement may require compliance with Bacon/Davis requirements. Large construction projects will often require project schedules. Payment will adhere to the contractor meeting those milestones and there may be associated liquidated damage clauses for delays caused by a contractor.
IT Agreements: These agreements are often complex and require professional licensing terms. We often include project schedules and special termination provisions. We typically do not agree to indemnification, jurisdiction outside of Texas or arbitration. Most importantly with IT Agreements the contractor must be inside the territorial borders of the United States.
Leasing or Purchase/Sale Agreements: The Harris Center enters into a variety of leasing agreements. They include but are not limited to car, property and sometimes equipment Leasing agreements. Most agreements contain standard TAA terms and conditions and many other special provisions specific to our entity type. [I.e. community center]. The agency is statutorily prohibited from purchasing property above the appraisal value unless approved by the Board of Directors. The Harris Center can sale its property but must do so in accordance with special provisions found in the Texas Administrative Code relating to governmental entities and community centers in particular.
Step 3 - Debarment and Background Checks
During the procurement and contracting processes the Harris Center staff will search the state and/or federal debarment lists to confirm that you or your business entity have not been debarred from receiving a contract with a governmental entity. Debarment means the disqualification of a person and/or entity to receive invitations for bids, or requests for proposals, or the award of a contract by federal or state governments, for a specified period of time commensurate with the seriousness of the offense or the failure or inadequacy of performance.
The debarment process protects the state and the government from fraud, waste and abuse.  The effect of being placed on the suspension or debarment list are many but the main effects are listed below.
Your name will be published as ineligible on the Texas Comptroller site and/or the System for Award Management (SAM), a GSA administered website www.sam.gov (Federal). Your suspension is effective throughout the State of Texas and the Executive Branch of the Federal government and applies to procurement and non-procurement programs.
Offers will not be solicited from, contracts will not be awarded to, existing contracts will not be renewed or otherwise extended for, and subcontracts requiring the Harris Center's or state approval will not be approved. For additional information see the Texas Comptroller site at www.comptroller.texas.gov.
Frequently Asked Contracting Questions
Does my foreign entity need to file an application for registration?
The Texas requirements for registering as a foreign entity can be found in the Texas Business Organizations Code Section 9.001. An entity must file an application for registration, previously known as an application for certificate of authority, if it "transacts business" in Texas. Texas statutes do not specifically define "transacting business;" however, section 9.251 of the BOC lists 15 activities that do not constitute "transacting business." Generally, a foreign entity is transacting business in Texas if it has an office or an employee in Texas or is otherwise pursuing one of its purposes in Texas. The secretary of state cannot give a legal opinion as to whether a particular foreign entity is "transacting business" in Texas. The Contract Services department will ask for documentation of foreign entity registration if the entity named in and/or submitting the bid response or contract has its principle business outside of Texas. If you are unsure whether registration is required, please consult with your legal counsel.
How can I donate to your organization?
We are grateful support and encourage you to donate to The Harris Center Foundation for Mental Health and IDD. To do so, visit theharriscenterfoundation.org
How can I get involved in the organization's mission?
If you or a loved one are living with a developmental disability and would like to show support for this community, contact organizations like The Arc and The Center for Pursuit.
 
If you or a loved one are living with a behavioral health condition and would like to show support for this community, contact organizations like Mental Health America and the National Alliance on Mentally Illness (NAMI).
 
The Harris Center, along with these organizations and others like it work continuously to end stigma and educate the public on behavioral health and IDD.
How can I partner with the organization?
If you wish to request The Harris Center's participation in a community or industry event, please email PublicAffairs@theharriscenter.org.
 
If you wish to request that The Harris Center partner on program operations, please contact 713.970.7000.
How much do services at The Harris Center cost?
Fees vary depending on the type of service. Discounts are available based on family size and income, and a sliding scale rate schedule is available.
Is your organization a 501c3?
Will the agency use our contract or require us to sign theirs?
The short answer is: It depends. If the agency is paying money we will likely utilize our contracts. There may be times when component parts of your proposal or contract may be incorporated into the agency's contract as an exhibit, but the agency's contract will likely be the controlling document. 
What happens if I am not able to meet the insurance requirements?
It will depend on the type of services being provided under the contract. As stated above, all risks are evaluated and determined to be low or high risk for the agency. There are times when the risk is determined to be low so the contract will shift those risk to you in the event of any injury, incident or accident. In the event the risk are high the agency may decline to contract with you notwithstanding the award of a contract. In this instance we would likely notify the next company in line that responded to the procurement notice.
What is a 1295 and when do I submit the document?
"In 2015, the Texas Legislature adopted House Bill 1295 (HB 1295) that requires a written disclosure of interested parties by business entities that enter into certain contracts with governmental entities." The codified law can be found in Texas Government Code section 2252.908. The form is called a Certificate of Interested Parties (Form 1295) and is filed electronically with the State. The 1295 is required for a contract that (1) requires an action or vote by the board of trustees; (2) has a value of at least $1 million; or (3) is for services that would require a person to register as a lobbyist under Chapter 305 of the Texas Government Code. This agency is a governmental unit and has a governing Board of Trustees. Board approval is required for any contract $50,000 and higher. The instructions on how to submit your 1295 will be included within the "Welcome Letter" from the CSD. View the 1295 FAQs.
What is your organization's mission?
To transform the lives of people with behavioral health and IDD needs.
What is your tax ID number?
Where can I find your financial documents?
Where does the money go when I donate to your organization?
Donations to The Harris Center Foundation for Mental Health and IDD are used to support The Harris Center in meeting its operational goals and special needs.
Who runs the organization?
The Harris Center is governed by 10 citizens appointed by the Harris County Commissioners Court, as well as an experienced Executive Team.
For more information, Click here.
Why do I have higher insurance limits or additional insurance requirements?
It depends on the type of Service provided through the contract. An example is a construction contract, which has additional requirements because of the variable scopes of work and potential increased liability. The risk of liability is assessed in all contracts and the insurance is adjusted up or down accordingly.
Why do I have to provide a copy of my business entity documents?
As a governmental unit, The Harris Center must ensure that the business entity is appropriately and legally established. This agency is authorized to do business with preferable Texas entities that operate within the territorial borders of the U.S. and are not debarred by any state or federal authority or owe any taxes to the state. The Harris Center utilizes the information to affirm that the business entity is what it represents that it is and appropriate for contracting purposes.
For questions about business opportunities, vendor registration, and more, contact The Harris Center Patient Access Line
713-970-7000